Floodlights have been a revolution in the lighting industry in recent decades, especially with the introduction of LED technology. These lights have transformed the way we illuminate our homes and industrial spaces, offering energy-efficient solutions that are both cost-effective and environmentally friendly. In this comprehensive guide, we will explore the world of floodlights, focusing on key aspects such as what LED floodlights are, how they work, their electricity consumption, and whether they get hot. Stay with us as we shed light on these topics.
What Are LED Flood Lights?

LED Flood Lights are a modern, efficient, and cost-effective alternative to traditional halogen lights, designed for both domestic and industrial outdoor lighting needs. Their primary purpose is to illuminate larger areas, making them suitable for various applications. For domestic use, you can install Flood Lights around your home and garage, while for industrial use, they provide a safe and secure outdoor environment.
High Wattage LED Flood Lights

High wattage LED Flood Lights are powerful, broad-beamed lights typically used in commercial buildings, parking lots, industrial areas, and roadways. These lights are designed to provide intense illumination for larger spaces year-round. They come in various shapes and sizes, making them a versatile outdoor lighting solution for industrial settings.
Low Wattage Flood Lights

On the other hand, low-wattage Flood Lights are ideal for domestic outdoor lighting solutions in 2022. These lights are perfect for illuminating areas around your home, parking lots, and garage. Despite their lower wattage, they offer advanced features that make them efficient, even in overcast conditions. You can customize their shape, power, and size according to your specific needs.
High Wattage VS. Low Wattage LED Flood Lights Comparison

Let's compare high wattage and low wattage Flood Lights to help you make an informed decision:
Wattage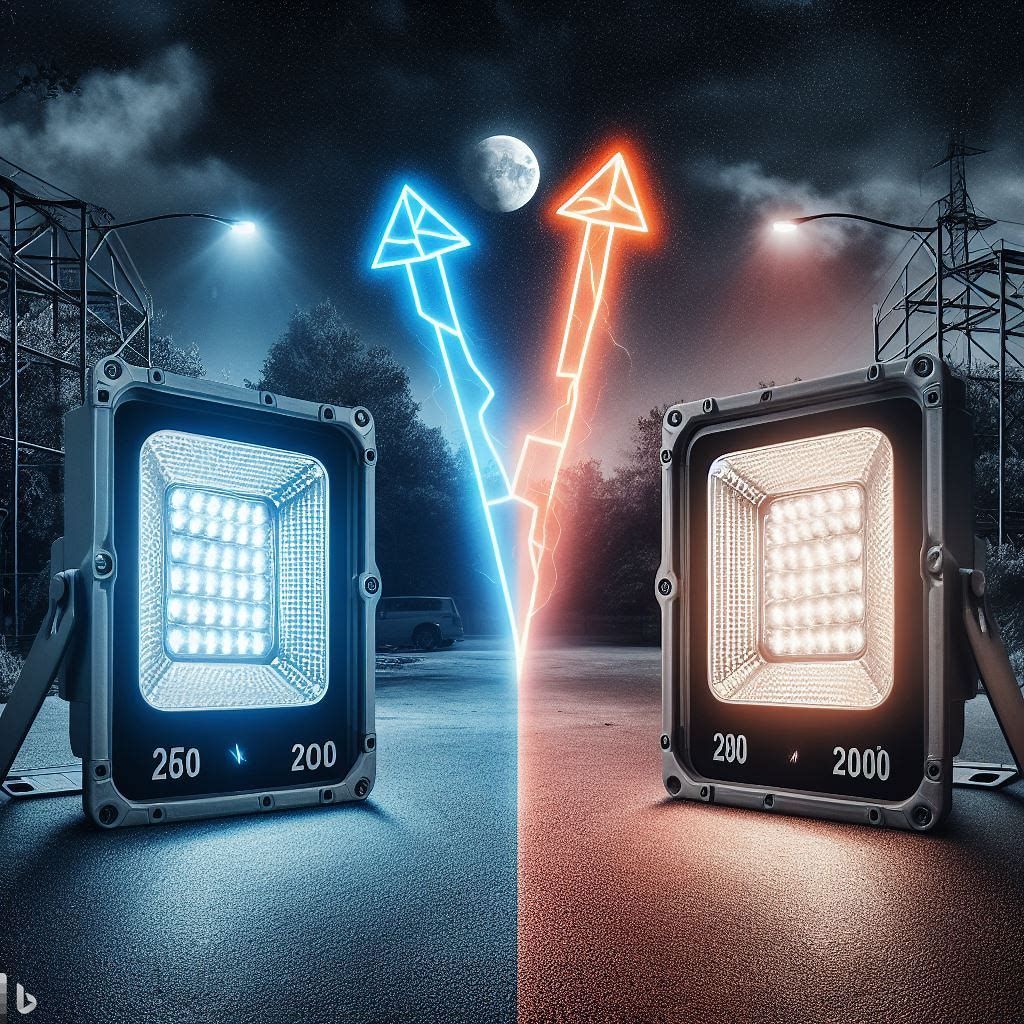 The wattage of a Flood Light plays a crucial role in energy consumption. Lower-wattage LED Flood Lights consume less energy, resulting in lower electricity bills, while high-wattage lights are more suitable for larger areas.
Beam Angle

The beam angle determines how wide the light spreads. High-wattage Flood Lights create a wider beam angle of 120 degrees, covering more significant areas, while low-wattage Flood Lights offer a 45-120 degree beam angle, making them ideal for restricted domestic spaces.
Color Temperature

The color temperature of Flood Lights affects the brightness and ambiance. Choosing Flood Lights with balanced color temperature ensures a comfortable and safe environment. For expert assistance, you can consider brands like Infralumin for the best industrial LED Flood Lights.
APPLICATION AREA

High-wattage LED Floodlights are perfect for industrial applications in stadiums, factories, parking lots, driveways, and more. They are also suitable for use inside warehouses and shipyards. On the other hand, low-wattage Flood Lights are primarily designed for domestic use, enhancing the lighting around your home and garage.
Upgrade to LED Flood Lights

LED Flood Lights offer several advantages over traditional outdoor lighting options. Their long lifespan, low maintenance requirements, and advanced beam angles make them a reliable choice. Some key features and benefits of LED Flood Lights include:
Easy Installation: LED Flood Lights are easy to install, whether for industrial or domestic use, thanks to factory-fitted cables or relevant wires.
High-Performing Optics: These lights provide maximum coverage without being obtrusive, making them perfect for various applications.
Efficient LED Thermal Design: LED Flood Lights are designed for effective heat dissipation, ensuring longevity and reliability.
Excellent Reliability: Made with durable materials like aluminum and solid fiber optics, they can withstand harsh environments.
Optical Beam Choices: You can choose from three beam options, including symmetric wide, asymmetric medium, and asymmetric wide, to suit your specific needs.
Advantages of LED Flood Lights

The advantages of LED Flood Lights are numerous:
Longer Lifespan: These lights can last up to 50,000 to 60,000 hours, providing a durable lighting solution.
Energy Efficiency: LED Flood Lights consume less energy, resulting in significant energy savings.
Low Heat Production: Unlike traditional lights, LED Flood Lights produce less heat, contributing to a more comfortable environment.
Motion Sensor: Many LED Flood Lights come with motion sensors, offering convenient automation.
Eco-Friendly: These lights have no toxic materials and leave no carbon footprint, making them an eco-friendly choice.
Low Maintenance: With their extended lifespan, installing LED Flood Lights is a one-time investment.
Final Thoughts

Choosing the right LED Flood Lights for your needs can be a challenging task. However, with expert guidance and a comprehensive range of options, you can make the best choice for your lighting requirements. Brands like Infralumin LED light manufacturer, with their extensive collection of LED Flood Lights, offer a one-stop solution for all your lighting needs. Upgrade to LED Flood Lights and embrace the future of energy-efficient, cost-effective, and environmentally friendly outdoor lighting. Visit our store and experience a brighter and more sustainable future with us.